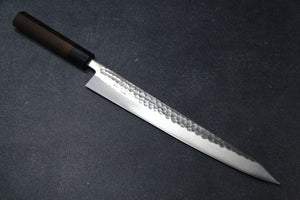 Ohishi 270mm SLD Sujihiki Kitchen Knife
This functional Sujihiki has a blade made of stainless SLD steel. The blade is wonderful on both sides  hammer patterning (Tschuchime) , which also helps the raw materials to come off the steel.
Handle: Traditional Wa handle, the handle is made of stained Maple, and the front frame is Pakkawood
A well-made balanced knife . The knife is handy in terms of length, both for professionals and for slicing at home. 
Blade length: approx. 270mm
Blade height: -
Total length: -
Weight: -
Handle: Stained Maple Pakkawood on the front frame