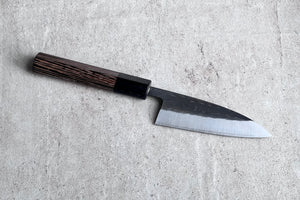 Ohishi Aogami2 Ajikiri 105mm
This Ohishi Ajikiri is made in Sanjo, western Japan, famous for its knives. Ajikiri is a small but useful utility knife in the kitchen. Ajikiri means mackerel water. The knife is well suited for smaller fish, birds, etc. The core of the blade is Aogami2 carbon steel, which is laminated with stainless protective cheeks. The cheek of the blade has a rustic Nashiji (Pear) finish, without forgetting the style.
Total length of the knife: 232mm
Blade length: 107mm, blade height: 35mm
Knife weight: -
Handle length: 110mm
Blade hardness: HRC: 62-63.
The handle of the knife is made of Maple and Hela Pakkawood.