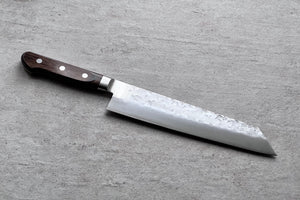 Ohishi Ginsan Kiritsuke Gyuto 210mm - Japanese Kitchen Knife
Ohishi Ginsan's Kiritsuke Gyuto is made by skilled smiths in the famous Sanjo, western Japan. Gyuto is generally the most popular knife model among professionals. The blade of the knife is made of the stainless Ginsa steel preferred by professionals, which is laminated between the stainless cheeks. Thanks to this, the knife is worry-free. the blade is skillfully faceted and the blade has a stylish Nashiji (pigeon leather) finish. The handle of the knife is made of Pakka wood. The handle is well finished and really comfortable in the hand. The professional's reliable assistant.
Total length of the knife: 333 mm
Blade length: 214mm, blade height: 46mm
Knife weight: -
Handle length: 114mm
Blade hardness: HRC: 61.
Note: Japanese knives are not suitable for cutting icy, bone, etc. hard materials. Hand wash with water or mild detergent.