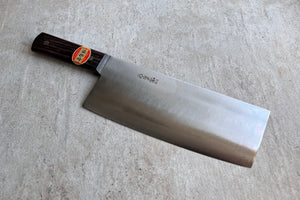 Sakai kikumori Chuka Bocho
T um ä Chuka bocho is made from Japanese ty stainless steel ä(zenko). Blade of a knife ä is instead of three-layer laminate (sanmai) made of one ä ter to eat eh (monosteel). Blade of a knife ä sharpens easily. Chuka Bocho is the Japanese name for a Chinese chef's knife. T um than your type a knife ä exists for different purposes, t um ä knife is not suitable for bones.
Sakai Kikumori has made high-quality soup belted out ä since 1926 l squealing. They än's products rely heavily on 600 years of history Sakai in high-quality knife manufacturing. Sakai Kikumori ty belches l close to many of Sakai's best sharpeners, sec ä with blacksmiths, producing quality in many styles eh.
Ter than size: 220x90mm
Weight: 420g.
Note: Care is required to prevent the knife from rusting. With hard knives ä mustn't cut mit eh än j old man ä or hard.