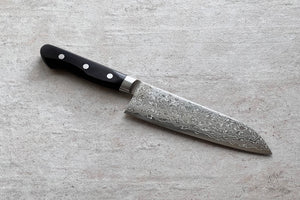 Tsunehisa Damascus Santoku 170mm Kitchen knife
Santoku equipped with beautiful Damascus (suminagashi) lamination and A10 steel . This Santoku is very well finished, thin behind the blade and pleasant in the hand . If you want performance and less bling , this is a strong favorite. This Tsunehisa knife line is handcrafted in Tosa, Japan.
Blade length: approx. 173mm
Total length: 303mm
Blade height : 46mm
Weight: 160 gr.
Steel : A10/rst Damascus cheeks
Hardness : approx. 60HRC
Handle Style: Yo
Handle material: Black Pakka wood
Note: The knife should not cut anything hard, and the knife should not be handled with force, twisted or turned. The knife should not be washed in the washing machine.