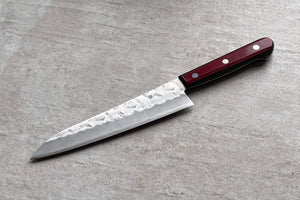 Tsunehisa Ginsan Gyuto 180mm - Japanese Keitti ö knife
Gyuto equipped with a red wooden handle and a 180mm blade. Ter the core is made of Ginsa stainless steel , the laminated cheeks are also made of stainless steel. This makes the knife carefree. Ter ä is l app alright hand-hardened to approx. 61 HRC hardness, which guarantees excellent steel v intellectually eh. Try it and you will know, we recommend it.
Ter length: 180mm
Total length: -
Ter pitch: -
Weight: -
Ter äs: Ginsan ter ä/rst cheeks
Ter hardness: approx. 61 HRC
Handle Style: Yo
Handle material: Packwood // red
Note: Knife ä should not be cut mit eh än j old man ä or hard, no you know ä come k by hand ä by force, v eh ent eh ä or k eh ent eh eh. Sculpture ä won't come to Pest ä in the washing machine.