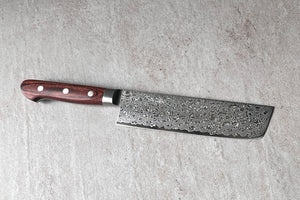 Tsunehisa ZA-18 Damascus Nakiri 165mm Keitti ö knife
Great shine av finished ä Damascus(suminagashi) ter oh ä equipped Nakiri. Ter eh än laminated 45 layers soft app eh ä stainless ter ast ä form a beautiful so-called Raindrop damask-like pattern.
Nakiri is a vegetable k button selection for browsing.
Ter än core is made of stainless steel ZA-18 ter to eat eh. ZA-18 is the so-called improved version VG10 ter to eat ä, both have a similar chemical composition, but ZA-18 ter visit ä is more than coal ä, chromium, molybdenum and cobalt. OF um ä add eh av ät hardness, ter stuttering sec ä v close eh ä rust formation.
Ter length: 165mm
Total length: 291mm
Ter height: 46mm
Weight: 184 gr.
Ter as: ZA-18 ter ä/rst cheeks
Ter hardness: approx. 62-63 HRC
Handle Style: Yo
Handle material: Red Pakka wood
Note: Knife ä should not be cut mit eh not hard, no you know ä come k by hand ä by force, v eh ent eh ä or k eh ent eh eh. Sculpture ä won't come to Pest ä in the washing machine.