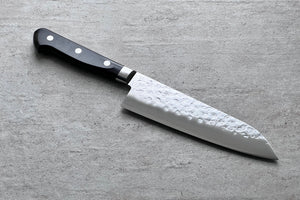 KIKI V10 Special Santoku 170mm - Japanese Kitchen Knife
With beautiful Tsuchime (hammer decorated) lamination KIKI V10 Special Santoku. This Santoku is very well finished, really thin behind the blade and pleasant and balanced in the hand . Performance and style , this is a strong candidate. Santoku On is made by the legendary Takamura Hamono, and the knives are also equipped with the KIKI logo.
Blade length: approx. 170mm
Total length: -
Blade height : -
Weight: -
Steel : VG10 Steel/roster cheeks
Hardness : approx. 61HRC
Handle Style: Yo
Handle material: Black Pakka wood
Note: The knife should not cut anything hard, and the knife should not be handled with force, twisted or turned. The knife should not be washed in the washing machine.