Every cook and kitchen deserves a good knife!
KIKI Knives is Finland's leading knife experts, as well as a high-quality knife store. We train chefs and make our own knives. In the online store, you can find Japanese knives , samples of the skills of several top manufacturers, and chef's knives representing the European excellence of the Spanish company Pallares.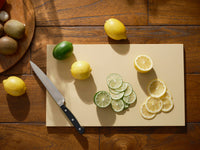 KUUKAUDEN KAMPANJA – Asahin laadukkaat vaaleat leikkuulaudat -15%
Japanilaiset Asahin huippu leikkuulaudat nyt Kampanjahintaan syyskuun loppuun!
Asahin teräystävälliset ja huolettomat leikkuulaudat soveltuvat kiireiselle ammattilaiselle sekä kotikokille loistavasti. Tarjous voimassa 30.9.2023 saakka tai niin kauan kuin tuotteita riittää. Käytä kassalla alekoodia: Yellows
Tilaa heti
Kiki's knife shop recommends
Recommended by Finland's leading professionals
"KXK knives put a smile on your face. Unbelievable cutability and stylish overall. Then of course there is the handle! Incredibly comfortable and durable, reminds me of well-taped bats as a junior"

Teemu Laurell, chef and restaurateur Shelter, Helsinki
"I'll never forget my first 'KIKI' moment - the KXK Kiritsuke Santoku sank into the carrot like a laser! An unbelievably handy and precisely cutting luxury utility knife. This kind of craftsmanship can be appreciated by a chef!"

Jaakko Sorsa, chef, Hong Kong
A super beautiful Japanese knife, especially the birch handle. The knife has a super thin blade and it was great for precise Bocuse work. Good cutting feel and really suits me.

Anni Peräkylä, Bocuse D'Or Team Finland
"The best knife I've ever held. Now, finally, people other than me can buy these knives!"

Tommi Tuominen, chef and restaurateur
"I don't compromise. I love to work with the best. As a chef, I value craftsmanship very much, as you know a chef's most important tool is the knife. I have always loved Japanese knives"

Arto Rastas, chef and restaurateur
Favorite knives of top chefs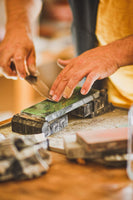 Knife Sharpening and Handling Courses - Reward your team or yourself
What makes cooking more fun, well of course a sharp knife. Learn about the characteristics and elements of Japanese knives and the basics of sharpening with KIKI Knives.
In our 2.5-hour course, you will learn everything essential about blade models, sharpening angles and sharpening techniques, as well as factors related to knife maintenance and upkeep.
Find out and book
For maintenance and manufacturing in a knife shop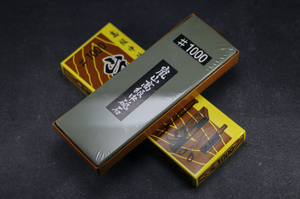 Knife sharpening and maintenance
For example, we organize trainings and courses related to the selection, manufacture and, above all, sharpening of Japanese knives. In the online store you will find carefully selected products for the maintenance and sharpening of Japanese knives. You can find instructional videos on Sharplife's YouTube channel.
Check out the selection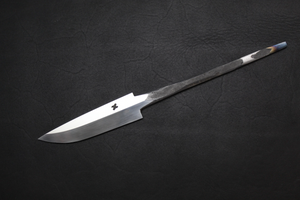 DIY knife sets
Our experts make customized knives not only for top professionals but also for everyone who appreciates unique craftsmanship. In the online store, you can also find a limited number of ready-made parts for making your own knife.
Check out the selection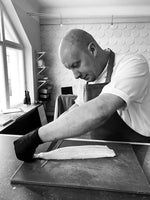 Lessons and enthusiasm from top kitchen professionals
"KIKI Knives got me excited about good knives, and there is no end to this enthusiasm! I highly recommend getting to know high-quality knives and learning the basic skills of sharpening."
Sasu Laukkonen, Restaurant Ora Helsinki
Check out Sasu's lessons on knife handling on Sharplife's YouTube channel.
See tips for using a knife
The best gifts of the festive season are available now - Order now and ensure timely delivery
For the love of Japanese knives and knife making
We are passionate knife dealers from Helsinki and are proud of the recognition we have received from Finland's foremost experts. KIKI Knives was born from a common interest in cooking and knives and culture.
Today, KIKI Knives delivers knives, know-how and quality accessories all the way from Helsinki to Inari.
Forget the boring days and move to the sharp end of the kitchen!
#SharpLife #forgetboringdays