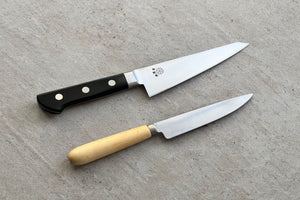 Sakai KikumoriXPallares - Kitchen Knife Package
SKK Honesuki 150mm
T um ä Honesuki is made of Molybdenum vanadium ter to eat eh. The knife is worry-free in terms of rusting and is suitable for a busy professional as well great for the home cook. Honesuki is the so-called chicken knife, but is good for other birds as well and to other things too. A perfect gift idea for a birder.
Sakai Kikumori has made high-quality soup belted out ä since 1926 l uhten and hei än products are strongly based on Sakai's 600-year history in the manufacture of high-quality knives. Kikumori ty belches l close to many of Sakai's best sharpeners, sec ä with blacksmiths, producing quality in many styles eh.
Ter length: approx. 150mm
Total length: -
Ter hardness: 59-60HRC
Pallares Carbon steel kitchen knife 120mm
This  A small kitchen knife made of carbon steel works well in the kitchen as a handy general knife. The compact size and narrow blade, as well as the tip of the blade, enable precise work. Restaurant Nokan keitti according to the ömestar ä an excellent duck knife.

Blade: 120mm carbon steel
Blade height: 22mm
Total length: 225mm
Handle: Boxwood