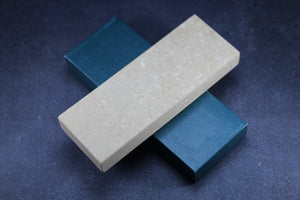 Marble 400 grit. Sharpening stone
A great rough stone that bites fast. In addition to speed, this stone has a very pleasant feeling of use, which is not a given in rough stones . Works well as a starting stone for resetting the blade angle on a very dull blade, or for repairing small breaks. From this stone, you can also go directly to the finishing stone. The stone must be soaked for approx. 15 minutes.
The stone was made by Imanishi from Kyoto, known for its quality.

Grit: #400

Size: 210x78x28mm
Type: Water grinding stone, Soakable