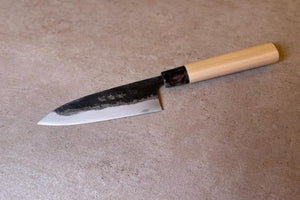 Murata Buho Aogami1 105mm Kobocho Kitchen Knife
Murata 105mm Kobocho is a good quality but affordable knife with a blade made of Aogami1 carbon steel eh.
Ko Bocho( 小包丁) A small knife. Is short and wide ä knife, which is very suitable for smaller kitchens ö teht to old Kobcho ter ä is deliberately higher so that for the knuckles j eh ä order a cutting board ty burping eh.
Murata's knives are sharpened to a very sharp point and hardened to a hardness of 61-63HRC . Due to its hardness, the blade retains its sharpness for a very long time. T um än j not ter ä än is done Kurouchi finish. In terms of style , the knives are wonderfully rustic and ty ugly, so t at you know ä dare k used eh suddenly.
Blade length: approx. 105mm 
Knife weight: -
Blade hardness: HRC:61-63
Handle length: 120mm (Magnolia & plastic)
Note: Follow the instructions regarding the use of Japanese knives. Do not machine wash. Carbon liter should be dried carefully so that it does not rust. no oh my esk eh än cut j would ä or hard things!