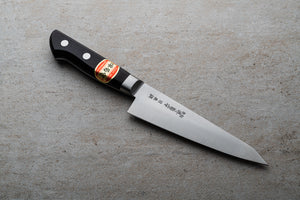 Nihonko Honesuki Cake 150mm
T um ä Honesuki is made from Japanese ty stainless steel ä(carbon ter äs), where .95% carbon eh. Blade of a knife ä is instead of three-layer laminate (sanmai) made of one ä ter to eat eh (monosteel). Blade of a knife ä sharpens well and is ter stutteringly good eh. Honesuki is intended for hens.
Sakai Kikumori has made high-quality soup belted out ä since 1926 l squealing. They än's products rely heavily on 600 years of history Sakai in high-quality knife manufacturing. Sakai Kikumori ty belches l close to many of Sakai's best sharpeners, sec ä with blacksmiths, producing quality in many styles eh.
Ter length: 150mm
Total length: -
Ter hardness: 63HRC
Note: Care is required to prevent the knife from rusting. With hard knives ä mustn't cut mit eh än j old man ä or hard. T um ä knife is therefore not intended for bone l not for cutting, but for cartilage sec ä to remove the meat from the bone.