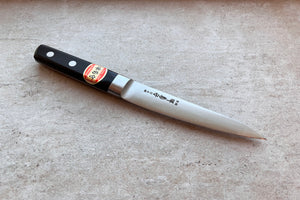 Nihonko Honesuki Maru 150mm
T um ä Honesuki Maru is made from Japanese ty stainless steel ä(carbon ter äs), where .95% carbon eh. Blade of a knife ä is instead of three-layer laminate (sanmai) made of one ä ter to eat eh (monosteel). Blade of a knife ä sharpens well and is ter stutteringly good eh.
Honesuki Maru is intended for processing different types of meat. Unlike the Honesuki Kaku, this knife does not have a heel on the blade, but the blade goes straight to the handle. You must be precise with the knife so that your hand does not slip towards the blade. Honesuki Kaku is good for handling hanging meat, but is well suited for many different tasks thanks to its nimble knife skills.
Please note: traditionally Honesuki Kaku is not sharpened to the base of the blade for safety and practical reasons. The unsharpened beginning of the blade works great for Frenchaus and scraping. This knife has attitude, an absolute favorite!
Sakai Kikumori has made high-quality soup belted out ä since 1926 l squealing. They än's products rely heavily on 600 years of history Sakai in high-quality knife manufacturing. Sakai Kikumori ty belches l close to many of Sakai's best sharpeners, sec ä with blacksmiths, producing quality in many styles eh.
Ter length: 150mm
Total length: -
Ter hardness: 63HRC
Note: Care is required to prevent the knife from rusting. With hard knives ä mustn't cut mit eh än j old man ä or hard. T um ä knife is therefore not intended for bone l not for cutting, but for cartilage sec ä to remove the meat from the bone.