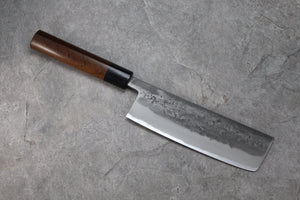 Ohishi Nakiri 165mm. Aogami 2 Nashiji Tsuchime
This knife is made in Sanjo, western Japan, known for its blacksmithing . The blade of the knife is made of Aogami2 carbon steel, which retains its sharpness very well . However, the blade has stainless steel cheeks (Sanmai) with a Nashiji (Pærynä) finish. So the knife is easy to maintain. The style of this knife is Traditional looking Japanese. A stylish vegetable-focused knife.
Blade length: 165mm
Blade height: 51mm
Total length: 310mm
Blade hardness: HRC: 62-63.
Handle length: 127mm
Handle: Made of stained Maple and front frame Pakkawood.