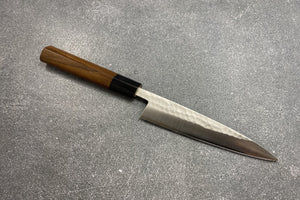 Ohishi Petty 135mm SLD Tsuchime
Ohishi Petty is a knife made by skilled blacksmiths in Sanjo, western Japan, famous for its knives. Petty is a small, useful utility knife in the kitchen. The blade of the knife is made of SLD-stainless steel, which is laminated (Sanmai) between the stainless cheeks. The blade is Tsuchime (pattern hammering) finished, without forgetting the style.
Total length of the knife: 266mm
Blade length: 137mm, blade height: 30mm
Knife weight: -
Handle length: 115mm
Blade hardness: HRC: 62-63.
The handle of the knife is made of beautifully stained maple and the front handle is made of water-resistant boxwood. We think the handle is very good, because maple is slightly heavier than, for example, magnolia (Ho) and thus increases the balanced feeling in the hand.
Warning: Thin and hard Japanese knives are instruments that must be handled with care. Do not cut hard or icy raw material, or otherwise mishandle the knife by forcefully twisting/bending it. Only hand wash and dry carefully immediately after use. No insurance covers the above-mentioned or other damages caused by misuse.