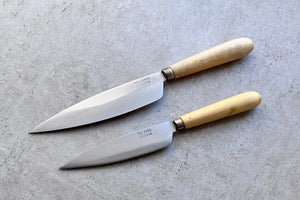 Pallares 130mm & 160mm - Package
The package contains Pallares' popular carbon steel knives with a leaf-shaped blade in 130mm & 160mm lengths. Pallares knives are a great way to get to know sharp knives, because the durability and sharpenability of the +60 Hrc hard blade is incredibly good.
The blade is curved, and the heel of the blade is nicely rounded. A wonderfully simple knife that doesn't bend unnecessarily.
Handle: Boxwood
Blade: 130mm carbon steel
Note: This knife is made of carbon steel and patinas with use. Keep the knife dry and clean to prevent it from rusting. The knife should never be washed in the washing machine.