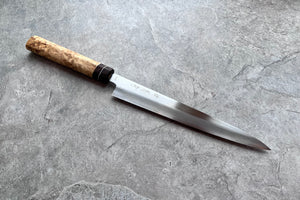 Sakai Custom Sujihiki 270mm
The nobility of slicing. The top-quality blade from Sakai meets the handle made with love from Pohjola wood. The blade is Aogami2 carbon steel with an iron cheek (Sanmai), classic style. It was forged by a blacksmith representing the top of Sakai's new generation. The blade has been chiselled, sharpened and finished by Maruoyama san. The thin face of the blade allows for an incredibly fine cut mark. The perfect choice for a professional or someone who is passionate about food. Recommendation.
The handle of the knife is octagonal (Hachikaku) in design. The handle is made of domestic Warp Birch, Oak and has a black volcanic fiber spacer as decoration.
Blade length: approx. 260mm
Handle length: -
More detailed measurements will follow asap!
Note: The blade is carbon steel, so it will rust if left wet.