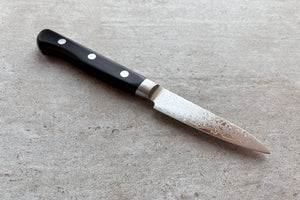 Tsunehisa A10 Damascus Petty 75mm Keitti ö knife
Great shine av finished ä Petty with Damascus (suminagashi) cheeks. Ter eh än laminated 45 layers soft app eh ä stainless ter ast ä form a beautiful shield A10(1.25-1.5%C) Ty oakalu ter for an edge that patinas, but sharpens especially very well
Little Petty is his own k at last eh ty for burping, sec to be more specific for belching.
Ter length: 75mm

Total length: -
Ter height: approx. 20mm
Weight: 184 gr.
Ter äs: A10 -ty okaluter äs/-rst Damascus cheeks
Ter hardness: approx. 62 HRC
Handle Style: Yo
Handle material: Black Pakka wood
Note: Knife ä should not be cut mit eh not hard, no you know ä come k by hand ä by force, v eh ent eh ä or k eh ent eh eh. Sculpture ä won't come to Pest ä in the washing machine.